Lab 1200C PECVD Furnace with Quartz Tube and Vacuum System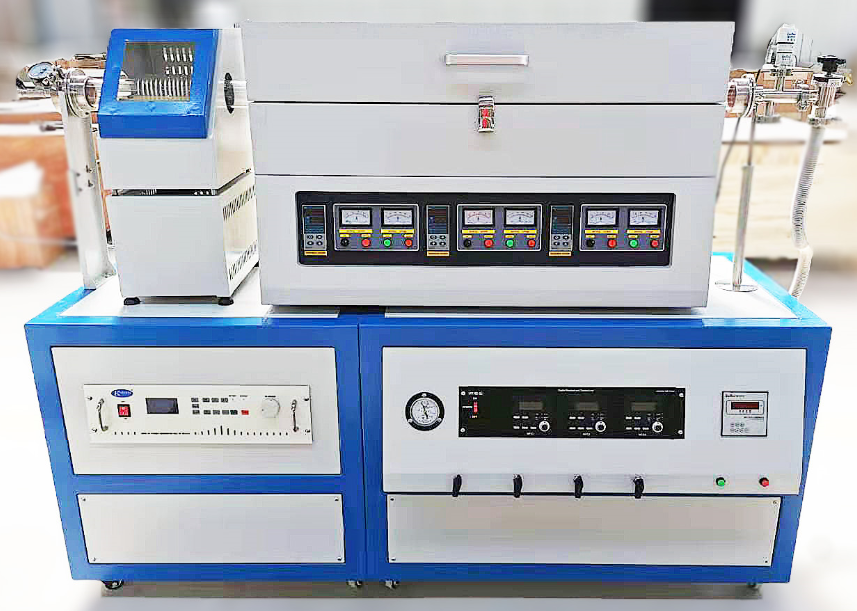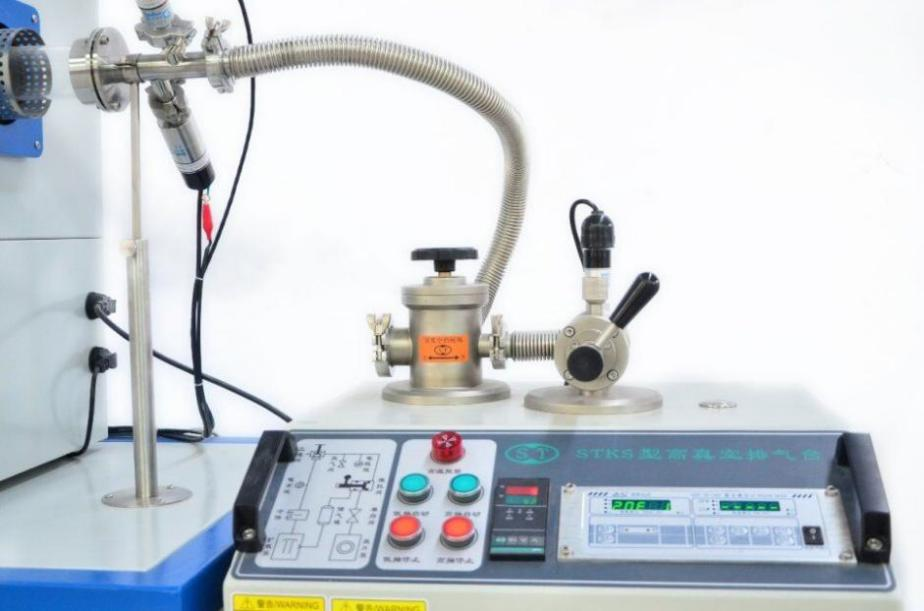 The equipment introduction: This equipment ionizes a gas containing a film-constituting atom by means of radio frequency, etc., and forms a plasma locally. The plasma is chemically active and reacts easily, and a desired film is deposited on the substrate. In order to allow the chemical reaction to proceed at a lower temperature, the activity of the plasma is utilized to promote the reaction, and thus the CVD is called plasma enhanced chemical vapor deposition (PECVD).
Product Description: This equipment is a fixed single temperature zone PECVD system, which includes D60x1000L mm two temperature zone tube furnace, 500W plasma RF power source, 3 channel mass flow air supply system and vacuum unit.
The main components of the system and features:
The equipment is mainly composed of a tubular heating furnace body, a vacuum system, a proton flow gas supply system, a radio frequency plasma source, a quartz reaction chamber and the like.
Main feature:
1. The gas in the quartz vacuum chamber is changed to an ionic state by a radio frequency power source.
2. The temperature required for PECVD to perform chemical vapor deposition is lower than that of ordinary CVD.
3. The stress of the deposited film can be controlled by the frequency of the RF power source.
4. PECVD has higher chemical vapor deposition rate, uniformity, consistency and stability than ordinary CVD.
5.Widely used: equipment can deposit SiOx, SiNx, amorphous silicon, microcrystalline silicon, nano-silicon, SiC, diamond-like and other films on the surface of sheet or similar shaped samples, and can deposit p-type, n-type doping Miscellaneous film. The deposited film has good uniformity, compactness, adhesion, and insulation. Widely used in cutting tools, high-precision molds, hard coatings, high-end decoration and other fields.
PECVD Technical Parameters

Max.temperature:

1200C

Working temperature:

≤1100C

Tube material:

Quartz tube

Tube size:

Diameter:60mm,

heating zone length:350mm

Voltage:

220V/50HZ/3KW

Heating element:

Resistance wire

Thermocouple:

K type

Temperature accuracy:

±1℃

Heating rate:

≤10℃/min

Temperature control:

PID control and self-tuning adjustment, intelligent 30-segment programmable control, with over-temperature and break-off alarm function

Proton flowmeter

1. Three Mass Flow Controlled (MFC) Gas Mixing Station

2. Internally equipped with high-precision digital display mass flow meter for accurate control of gas flow

3. Gas flow range is 0-500SCCm with an error of 0.02%

4.Outlet vacuum pressure gauge, built-in gas mixing system,

5. Stainless steel needle valve meter, standard double ferrule joint

Plasma RF power supply

Output power: 5-500W ±1°C

RF frequency: 13.56MHz ±0.005%

Reflected power: up to 100W

Match: Automatic

RF interface: 50Ω, N-type

Cooling: air cooling

power supply:AC 208-240V,50/60HZ

Vacuum system

High vacuum molecular pump set: Diffusion pump unit

Vacuum degree up to: 10-1Pa--10-3Pa

KF25 quick connect, stainless steel bellows, manual flapper valve and flange, vacuum pump

Warranty

One-year warranty period, lifetime maintenance, (excluding related consumables, such as furnace tubes, seals, etc.)

Certificates: CE,ISO&UL

Standard Package Accessories:

Electric Furnace

1 set

High temperature gloves

1 pair

Crucible hook

1 pc

Quartz tube

1 pcs

Stainless steel flange

1 set

Tube stopper

2pcs

10mm Air pipe

User manual

1 book

Vacuum pump

1 set
Please let me know your address in details,then we can send freight cost to you.